Hi everyone!! Dr. Danielle here!! Who is ready for the holidays?? With all of the parties and family gatherings coming up, wouldn't it be nice to have some pearly white teeth to show off?!
I used to hate looking at pictures of myself smiling next to my friends. The first thing I would notice is how yellow my teeth looked. When I was in dental school I finally decided to take the plunge and get my teeth professionally whitened. My only regret was not doing it sooner! I could not believe how much whiter my teeth got! That is usually the same feedback I get from patients who whiten with us! 
For those of you who have never whitened, let me answer some common questions for you! 
How is in office whitening different from over the counter whitening strips? - The strength of the whitening gel is much stronger than the over the counter strips or take home whitening gel. The results appear within 2 hours, whereas it can take weeks at home.
Is it harmful for my teeth? In office ZOOM whitening is perfectly safe for your teeth and nerves!! We protect all of your tissues with special barriers! 
Will I have sensitivity? - Cold sensitivity can be expected but it varies for everyone. We have some recommendations to help prevent cold sensitivity and to alleviate it if it occurs.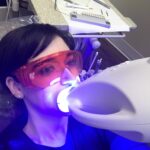 How long does it take? - You will be in the chair for about 2 hours.
Can I eat after? - You can eat and drink! We just recommend avoiding any food that could stain a white t-shirt for the first 48 hours.
How much does it cost? - Normally, in office whitening is  $500, but you are in luck! During December we have a PROMO of just $399 which includes in office ZOOM whitening, take home whitening trays and gel AND a $40 rebate!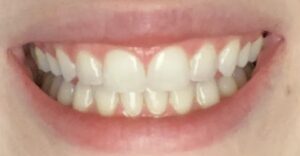 We would love to make your day brighter!! Do not hesitate to schedule a consultation appointment with us! We also have gift certificates available if you are looking for gift ideas for friends and family!
HAPPY HOLIDAYS!!!!