February 4th, 2020
It's February and that means...it's National Children's Dental Health Month! It is also the 75th anniversary of the community water fluoridation program!
The American Dental Associate has chosen this year's campaign slogan to be "Fluoride in water prevents cavities! Get it from the tap!"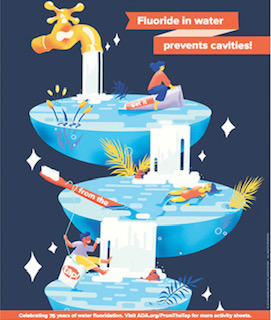 Here are some tips to keep your family's oral health at its best! 
 Brush your child's teeth with fluoride toothpaste twice a day.
If your child is younger than 3 years, brush with a smear of fluoride toothpaste.
 If your child is age 3 to 6 years, brush with a peasize amount of fluoride toothpaste.
Young children will want to brush their own teeth, but they need help until their hand    skills are better. Brush children's teeth or help children brush their teeth until they are about 7 or 8 years old.
 Be a role model for oral health! Brush your teeth with fluoride toothpaste twice a day (in the morning and at bedtime) and floss once a day.
Serve healthy meals and snacks like fruits, vegetables, low-fat milk and milk products, whole-grain products, meat, fish, chicken, eggs, and beans.
Limit the number of snacks your child has in a day.
 Do not give your child food for rewards.
Take your child to the dentist for a check up by her first birthday and keep taking her.
 If your child has not gone to the dentist take him.
Ask your dentist what you can do to keep your mouth and your child's mouth healthy.
 Make sure to go to the dentist as often as your dentist would like you to go.